Many of the Dutch kitchens are really tiny so how do you deal with it?
Designing small kitchens is perceived as a great design challenge, but it is important to know that even with a limited budget and building restrictions it is possible if cleverly designed to have an amazing kitchen: functional, and efficient.
The most important thing is a preliminary and careful planning that:
will impart you with smart solutions and will enable ergonomic and easy-to-operate work.

That will take into consideration the size of work surfaces, electrical products and storage spaces.

will allow you to take advantage of every inch of space.

will easily maintain organisation which is critical in a small kitchen.
If you are facing renovation, you should also plan in advance the height of the cupboards and work surface so that they will be ergonomic and comfortable for daily use. It is also wise to plan the electrical and plumbing points that will be used in present time but with an eye for the future use as well.
One of the most important areas in the kitchen is the work surface. In a small kitchen there can be a shortage of counter space while considering the sink and stove. I recommend using covers (surfaces) for the sink and the stove so that they can be used when needed as extra valuable counter space. 
* Sometimes a small solution can have a big impact 🙂

Example of a cutting board covering the sink and an extra half sink used to store soaps and brushes
Disorder on your work surface may make the kitchen feel smaller so try to avoid scattering electric machines and other many small items. Instead, find them a place inside the cupboards, a place where they will be out of sight and keep the work surface clean and open.
I recommend installing a sink and a half, where in the small part you can put the dish and hand soaps, sponges and brushes, which helps to keep the work surface clean and aesthetic.
Creating the illusion of space
Color and light are crucial elements in the formation of the atmosphere and feeling that prevails in a space. In a small kitchen, dark cupboards are likely to create a suffocating and oppressive atmosphere, especially when it comes to a closed kitchenette.
Bright colored cabinets and a well-lit countertop can create an open-space-look even in the smallest and most crowded kitchenette. I am aware of the fact that this tip goes against the latest fashion (here in The Netherlands) of white kitchens and black countertops and still I avoid designing kitchens with black or dark surfaces in general but especially in small kitchens.

Example of a kitchen with buttons instead of handles and long lines, microwave above oven in a cabinet with a removable shelf.
In order not to turn the kitchen into a white and sterile space, do not forget to give it a little character by adding a touch of color somewhere. 
Continuing the floor onto the skirting board creates the illusion that the cupboards are floating and thus the kitchen floor looks larger than it really is.
Be sure to leave the window exposed and do not block it with a curtain that will prevent light from penetrating. The brighter the space the more roomy it feels.
Consider going for the integral design line, where the different products are placed in a uniform line throughout the kitchen and hidden behind doors so that they blend into the kitchen and maintain minimalism. To give a pleasant feeling in a small space I try to create long lines. For this purpose I use integral handles or push-to-open buttons, which form one continuous line over the entire kitchen.
Smart and unique storage ideas are a must-have in any small kitchen design. As I mentioned, appliances like microwaves, toasters or mixers that are in cabinets add counter space and help to keep the kitchen neat. Even a trash can is better stored in a cupboard under the sink than placed outside.
The use of drawers is a necessary matter so that the entire contents of the cupboards are at hand and eye reach. If you already have a kitchen with doors you should think about installing interior drawers, pull out shelves or using boxes.
Install shelves inside the tall cabinets, to create separations. It will allow you to organize utensils in a neat way, instead of stacking piles and praying that they will not collapse on you every time you open a door. It is better if the top shelf is half deep, that way there is a better access to the items at the back.

Maximum utilization of space, use of drawers and bright colors
When there is a shortage of storage space in the kitchen, the ideal solution is to keep the food elsewhere. A separate pantry or a closet in a side room can add a lot of space to a tiny kitchenette.
You may have read tips that recommend open shelves or top cupboards with clear glass doors, but in my humble opinion this is only suitable for very neat people who were born with a cleaning cloth in their hand. In magazines it does look nice but in practice, if you do not keep the dishes neat and clean, it is better to keep them behind a closed and sealed door, otherwise it creates clutter and mess.
It's time to rank the utensils from are most usable down to the ones you still store in case… If you really cannot give up the utensils that are rarely used, better place them in a less accessible area like the corner cupboard or top shelves and even better to store outside the kitchen.
While most of us enjoy eating occasionally over the sink (and straight out of the pot because why soil a plate), still every home needs a dining table. The question is – where? Of course a dining table for the whole family and guests will have to find another place, outside the kitchen, preferably in its immediate vicinity. Nevertheless, for small in-between-meals, you can have an inexpensive solution like a folding or pull-out dining counter. It is sufficient for 1-3 people and their plates, not including food pots and pans. The additional and significant advantage of such a counter is that it gives us an extra work surface in the kitchen when needed.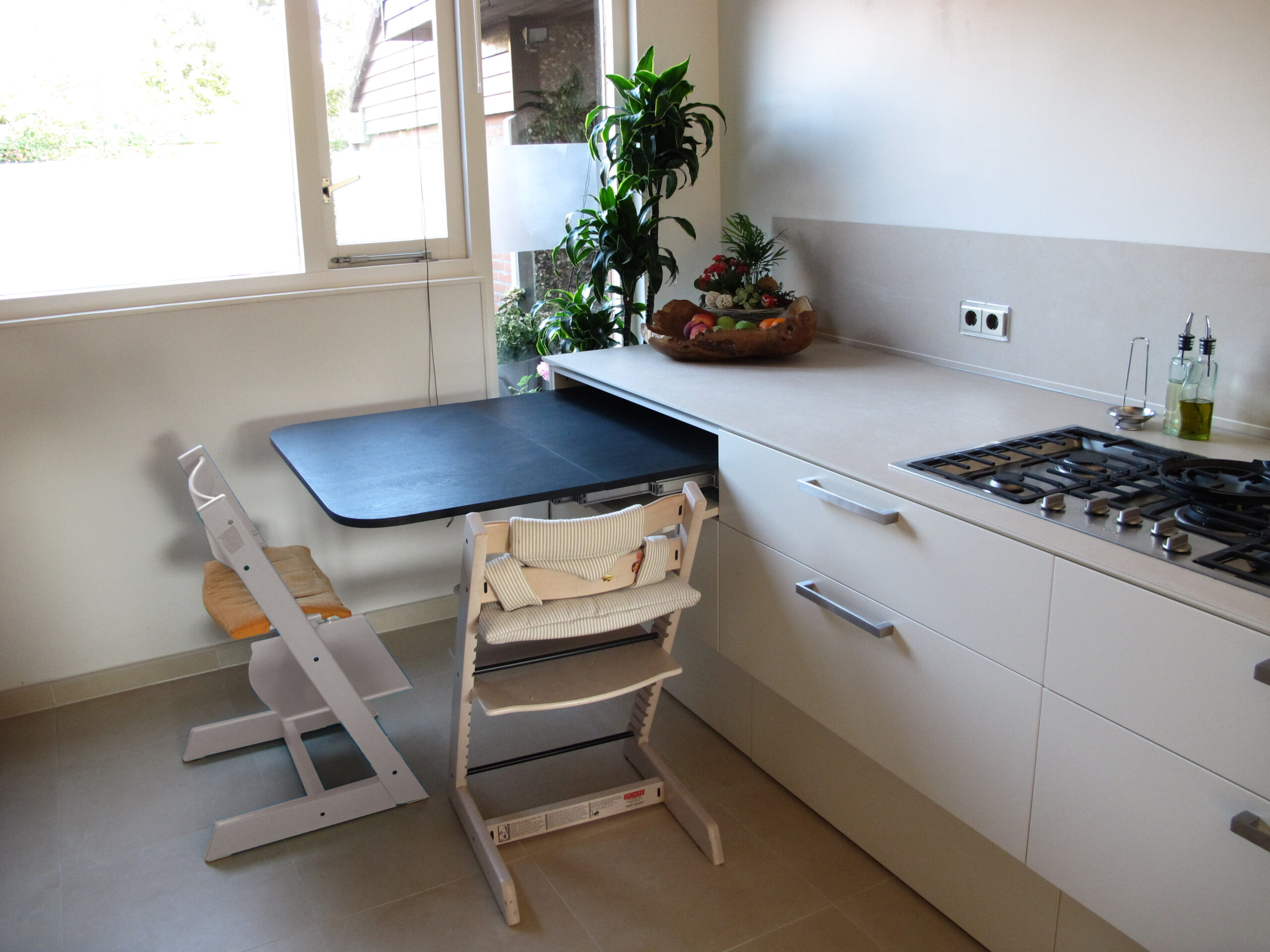 Example of a removable table that can be used as an additional work surface
What do you do without the fashionable American size refrigerator?
The one that can fill in all your groceries  for the week? If you have a large family or you'd like to avoid a daily trip to the grocery store and you need a lot of refrigerated food storage, I recommend one of the following two options: either use a large refrigerator without a freezer and place a separate freezer under the counter or use an additional refrigerator/freezer in the pantry, if you have one.
If you are well settled most of the year with the size of an integral refrigerator and only on special occasions you need more space, take advantage of the Dutch weather! Most days of the year it is possible to store the dishes or drinks outside, on the balcony or in the garden, in a place protected from sun and rain.


Example of a small refrigerator next to a large refrigerator.
Finally, one last tip for now, each kitchen is different and each user has their own needs, so you better consult with a designer before you invest a lot of money in a renovation. A good designer will provide you with a kitchen that is customized for you with optimal comfort.
I hope you enjoyed this article and if you came to the conclusion you need extra help, I would love to assist you.