In my previous article I wrote about small kitchens, but actually not only the kitchens are small in The Netherlands. Even though tiny houses are very trendy at the moment I never saw, before I came to live here, such small rooms as those which the Dutch consider bedrooms. 
One needs to use a good measure of creativity to furnish a small space in a way that will be functional, ergonomic, comfortable and aesthetic.
When we chose our own house, there were a few factors I loved about it: 
It is a corner apartment and when the sun shines, it shines all day long, from early morning till late in the evening.

It has green surroundings even though it is close to the city center!

 3x large balconies.

The big winner – 2x large bedrooms.
The extra small bedroom I did not consider to be a bedroom. In the following ten years it was our walk-in wardrobe!
As things evolved, we had two lovely girls who wanted rooms of their own so first I lost my home office and then I lost my wardrobe.
I needed to use all my creativity to transform a space of 1,90×2,00 meter (not square shaped) into a teenager's room.
The size does not matter – the right choices do
There are four general rules to furnishing a small space
1- Transformation – multi functional furniture – basically furniture that can be used in more than one way.
2- Less is more – avoiding overcrowded furniture and accessories at all costs.
3- Smart storage solutions.
4- Use of light background colors – meaning that walls and floors in light colors give a more spacious feeling. 
To know more about color, I invite you to read my article The Impact Of Color On Our Lives.
Many living rooms here in The Netherlands are combined with a dining area. Imagine: a sitting area, a dining area and maybe even a computer corner in a space of 25-30 square meters.
Every piece of furniture you choose for such a space should be with an added value:
A coffee table can be in the shape of a footstool, preferably portable and with a storage option. If the footstool has upholstery, it is advisable to have a compatible tray on which refreshments can be served. In our case, I chose two teak wooden boxes for toys. Most of the time they stand next to the couch and are used as side tables. This frees the main space and gives a spacious feeling. When guests come, the boxes are moved to the front of the sofa and become a coffee table. When we have more than six guests for dinner,  they become two seats.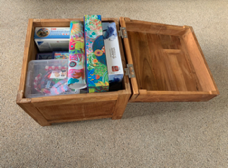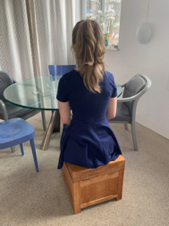 I recommend comfortable dining chairs for long sitting, but not too heavy. This way they can be used as additional seats in the living space. For example, in our sitting area there is only room for one sofa so when we have guests  we use the dining chairs as extra seats.
If your house is small and you do not have a guest bedroom, my advice is to have  a sofa in the living room that opens to a double bed. In this case, for maximum sleeping comfort you better choose a sofa without buttons and with no seat divisions. If the couch also has storage space, you got it all. The brands INNOVATION and MADE, for example, have nicely designed sofas that open to double beds.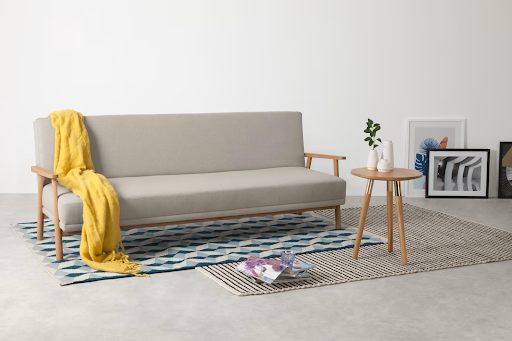 I really like round dining tables, especially in small spaces. 
A 120 cm in diameter round table, with a leg in the center can seat as many as eight diners when needed.
Glass top has advantages and disadvantages: 
In a small space, glass feels like it takes up less space. 

It is easy to clean and doesn't stain. 
The disadvantage of a glass table, especially for families with children, are  fingerprints – these are visible not only on top of the surface but also underneath. Kids just love to watch their fingers under the glass – you have been warned 🙂
If you need more storage and have space for a cupboard, you can choose one that assimilates into its surroundings or one that stands out as an eye catcher. If you chose the first option, it should be simple, with not too many elements. If you go for the second option, make sure it is the only piece of furniture that stands out in the space.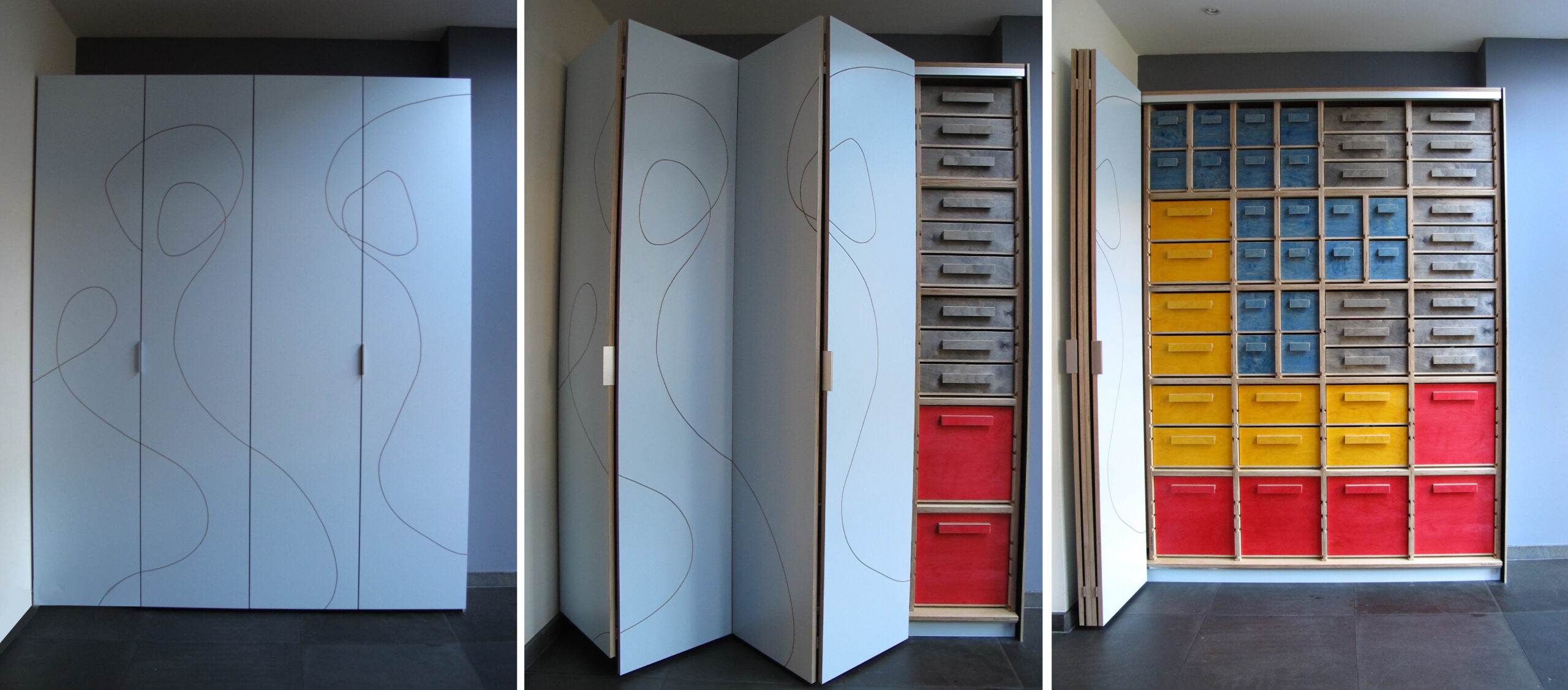 Whether it is your room or your children's I always recommend a bed with a storage option. Just as an island in the kitchen is an amazing upgrade for storage, so is the space under the bed. Keep in mind that your bed is at least 1,60×2,00 meters in size. Drawers can make useful and economical storage in this space.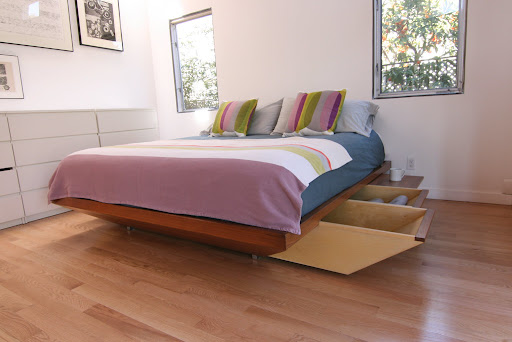 In children's rooms you can choose a regular bed with drawers below or a higher bed and cupboard below. If there is space, it is also possible to turn a high bed stairs into storage drawers.
In some extreme situations, as in our case, there is simply no room for a bed! The room is too small and the ceiling is so low that there isn't even the option of a high bed . As a result, we upholstered the entire floor with a double bed size mattress and elevated the sleeping area with another mattress. That way our daughter can sleep, play with girlfriends and even have a sleepover.  We used a hanging desk, a sitting ball and a hanging wardrobe. Four extra cupboards hang overhead. These have glass doors, which serve as picture frames for photos from our trip to Australia. In this way the cabinets became a decorative item. Last but not least, sliding entrance doors to the room are important space savers.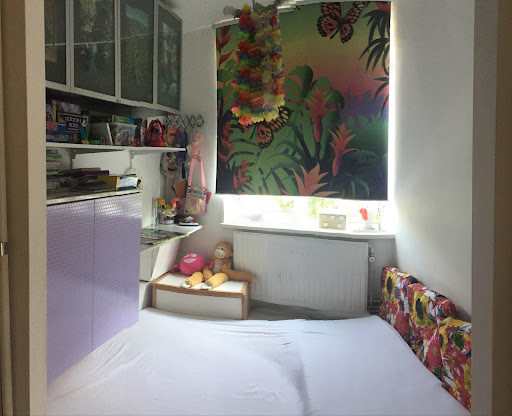 Radiators are necessary items in Europe but, annoyingly, they take up space and limit the use of the room. Luckily, in modern times there are  many more convenient options. Each option has limitations and should be looked at individually.
My favorite option is under-floor heating. Not only does this type of heating save a lot of space, but the heat it distributes is much more pleasant. If you are a soft rug or parquet lover, this type of heating is less suitable for you. Even though you'll hear about parquet and rugs which are suitable for under-floor heating, these are less efficient as they are good insulators, which means more energy is needed to heat the room well. 
Old houses with wood construction are more challenging for this kind of heating.
Heating hidden in the skirting boards is not the cheapest option you can find but it is certainly  a nice alternative to under-floor heating. 
Better choices for furniture here are hanging cupboards or sofas with legs if they are located against the walls. That way they won't block the heating.
Another option is wall heating concealed behind the plaster work. Also here, you should consider keeping the wall as exposed as possible, meaning without large cupboards in front of it. Such a wall radiates heat up to five meters away.
You might have heard about ceiling heating but I don't recommend it. Heat tends to rise up and less to radiate down.
Heating glass windows works on electricity and therefore has not been so popular until now. With the government's new trend of encouraging gas-free homes on the one hand and subsidies for purchasing solar panels on the other, this option becomes quite attractive if you have large windows.
Now that spring is around the corner, it's a good opportunity to look around and ask ourselves what is really necessary and what is better to get rid of? What can we change to create more living space for all the occupants of the house?
Small spaces are challenging so if you need extra help to tailor your place to your needs, give us a call, we would love to help you further.